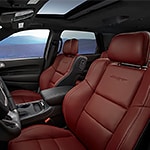 Have you ever noticed that a lot of vehicles offer great features for the driver but nothing for the passengers? Where's their USB ports and climate control system? When you take a spin in the all-new Dodge Durango, you'll find that it offers a whole host of features for both the driver and the passengers.
The Dodge Durango features an outlet and USB ports for passengers in the second row of seats. Is your phone's battery starting to run low? No problem! Simply plug it in the console and stay connected for the rest of the drive.
Second-row passengers can also enjoy climate controls that allow them to adjust the temperature to their liking. Gone are the days when you had to fight with the driver to get the temperature that you wanted. You can adjust it yourself and enjoy a relaxing, comfortable ride. It's all here at your friendly Brattleboro, VT Summit Chrysler Dodge Jeep RAM.