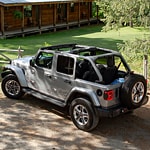 The 2020 Jeep Wrangler keeps you about as close to Mother Nature as you can be while still within a vehicle. This is because of the multiple open-air options that make it easy to breathe in the winds, fresh air, and even the smells of the ocean if you choose.
There is a removable "Freedom Top" on this Jeep that opens it to greater access to the sky above. That is critical to your enjoyment and makes this Jeep as popular as ever. Couple that with the fact that this Jeep is meant to be used to go exploring and has a very rugged design to make it possible, and you can see why people love it.
Adventurers and so many more look to the 2020 Jeep Wrangler as the only vehicle that they know will get them where they need to go. It is just a matter of time before you also decide to take it out for a spin.