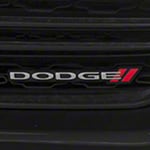 When you're behind the wheel, do you like to take the opportunity to catch up on podcasts or listen to a favorite song? In the Dodge Charger, finding the right track is a breeze. With its wide range of options, this popular mid-size sedan caters to your every mood.
If the radio is your thing, the Charger offers several great choices. The available HD radio gives you more stations and spectacular sound. Or, choose a channel by genre with the optional SiriusXM subscription.
Do you prefer to listen to content from your smartphone? No problem; Apple CarPlay and Android Auto come standard. They make it easy to select an audiobook, podcast, or even a specific song in your library. If traffic is heavy, you can even use the voice-command feature to locate the right selection for you. To see how it works, test-drive the Dodge Charger in Brattleboro, VT with our team from Summit Chrysler Dodge Jeep & Ram.