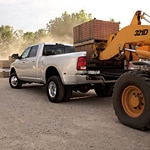 If you've been scouting around Brattleboro, VT for a heavy-duty pickup for your farm, business, or family, the Ram 3500 should be at the top of your favorites list. This popular truck line is capable of generating power to spare thanks to excellent engineering and solid construction, and you can test drive one today at Summit Chrysler Dodge Jeep RAM.
The Ram 3500 can be powered by one of three engine styles. The turbo six-cylinder model operates on diesel fuel and is available in standard and high output variations. A gasoline-fueled eight-cylinder HEMI engine rounds out the field of choices.
Depending upon which engine you select, your Ram 3500's powertrain will be completed with either a six-speed or eight-speed transmission. Regardless of which configuration you settle on, you can expect to consistently have up to 410 horsepower and more than 35,000 pounds of towing capacity at your disposal.